Denver CO - 2017 Forest River Georgetown 24W3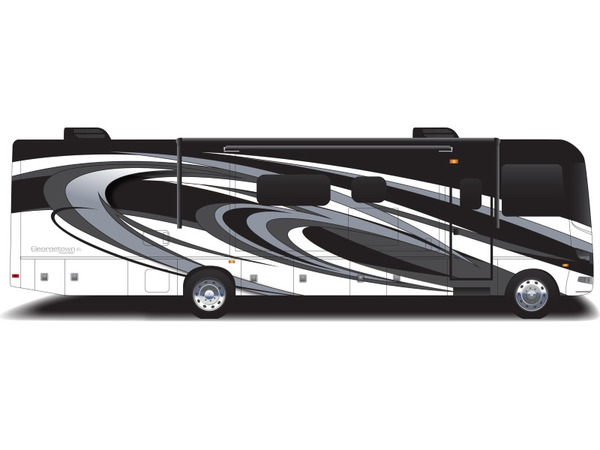 Denver CO - 2017 Forest River Georgetown 24W3
A motorhome is exactly what is sounds like it is. It is a vehicle that you can use as your home if you like that style of living. Owning a motorhome can be one of the coolest things in the world if you are a type of person who likes to travel and doesn't feel the need to have the traditional dwelling around yourself. The New 2017 Forest River Georgetown 24W3 is an attractive motor coach that not only looks good on the outside, but is more than equipped on the inside to handle all of your needs. It is a vehicle that you will most likely fall in love with the moment you see it. Once you get inside of it, it will be difficult for you to resist it. The following are some of the fine details on the model for you review . If you find that you are interested, please contact Century RV serving Denver Longmont Colorado and ask about Denver Forest River RV sales. Someone will be delighted to take you on a visual and physical tour of the Denver CO 2017 Forest River Georgetown 24W3. You may end up leaving the lot behind the wheel of one of these models.
Denver CO 2017 Forest River Georgetown 24W3 Interior
It is difficult to keep the features of the interior confined to one or two sentences because there is so much about it that you are going to absolutely love with all of your being. One feature that you will enjoy is the the table in between the two chairs in the front of the vehicle. The chairs are crafted of a plush and soft material, by the way. You will also enjoy the gorgeous flooring and the gigantic kitchen and full dining area. The kitchen has a double-sided sink, an oven and a microwave. The dining area winds around so numerous people can sit there. The bathroom is a full bathroom with a vanity mirror, a sink with cabinets and a full rounded shower that you could probably use as a bath with a few creative adjustments. The bedroom is absolutely gorgeous and is almost completely full of refined wood for you to look at if you are a wood lover. You also get a queen sized bed and numerous cabinet and drawers to place your most personal items. Contact Century RV serving Denver Longmont Colorado to inquire about the New 2017 Forest River Georgetown 24W3. Someone will be delighted to answer your questions.
The Amazing Georgetown 24W3 Exterior
The exterior is important because other people will constantly look at your vehicle. This model is a well-rounded vehicle that has an elegant and symmetrical appeal to it. The basic color of this motorhome is beige or champagne, but it has some dark brown areas on it in just the right spot. The design has a few swirls in it and a huge front windshield that truly gives it its bus-like appearance. Accent lights are also at your disposal. This cute motorhome resembles a small bus, and it has a design that allows you and anyone who is traveling with you to have easy access to the inside of the vehicle. One side of the unit has four windows and the other side of the unit has two windows. The door is on the passenger's side and is wide enough to accommodate someone with a wheelchair if you needed to travel with such a person. Additionally, you have access to exterior storage compartments and an exterior television if you desire to have one. Some other exterior features that you have are gel-coated sidewalls with graphics. They are vacuum bonded. You'll have a front cap with a lighted LED and logo. All of the exterior features will give you a feeling of pride and joy when you are in the vehicle.
The mechanical features are almost as abundant as the interior features are. You will have access to two coach batteries, a 4.0 KW Onan Gas Generator, a 6 Gal. G/E Water Heater, a power front sun shade, a real roof ladder and more. The unit has a six-person sleeping capacity and an 80-gallon tank. The awning length is 19 feet. The fresh water capacity is 50 gallons. The gray water capacity is 42 gallons. The black water capacity is 42 gallons. The entire unit is 27 feet long, a little over 12 feet high and 102 inches wide. It's a good size, and it will give you plenty of comfort as well as space.
Schedule Your Test-Drive of This Vehicle Today
Does the Forest River Georgetown 24W3 sound like it's your cup of tea? Wonderful! You can contact the dealership and schedule your test-drive today and talk about Denver Forest River RV sales. You won't truly know if this is the right RV for you until you test it at its full capacity. Take some time and cruise through the streets with the salesperson. Next, you can meet up with someone in the finance department who can work with you to get some amazing deals along with the deals in addition to the amazing discount that you already receive just for being a customer of Century RV. Specialists are waiting to speak to you about this exciting offer. All you have to do is make the first move by calling.