The 2017 Keystone RV Cougar 333MKS offers a deluxe, high quality interior with lots of features and storage. It sleeps up to six and has three power retractable slideouts. To view all this RV has to offer and learn about Boulder specials, visit Century RV serving Longmont Fort Collins Boulder Colorado.
Interior
The interior of the Cougar 333MKS provides you with homelike amenities. The living room starts with a triple-fold, vinyl, sleeper sofa. On both sides of the sofa are end tables and vertical mirrors. Behind the sofa is a large window with an MCD roller shade and a valance. Adding to the seating in the living room is theater seating for two people. There is a larger window behind the theater seating and a smaller window beside the seats. Both windows have an MCD roller shade, a valance, and short curtains. Overhead storage is available above the sofa and the theater seating. Across the aisle from the theater seats is a fireplace with an LCD television mounted above it. The entertainment center is completed with a 12 Volt CD/DVD system with Bluetooth connectivity, a home theatre sound bar, satellite/cable hook-up, a Winegard Omni Directional Antenna, all weather exterior speakers, and a 12 Volt charging station. There is overhead storage above the television and two bookcase shelves beside it with a cupboard underneath the shelving.
In the dining area, you can have a built-in vinyl table with two benches that can be converted into a sleeping area for two people. You can also choose a free standing vinyl table with four chairs. The dining area is beside the entry door that is in the middle of the trailer on the passenger side. There is faux-wood vinyl flooring down the center of the trailer with carpeting under the dining area, the theater seating, and the sofa.
The kitchen has solid surface counter tops on both sides of the three-burner stove with cupboard space under one counter and four full-extension, residential-style drawers with steel ball bearing guides under the other counter top. Over one counter top is a stainless steel microwave with turn table. Over the stove and the other counter top are a vent and overhead storage. The eight cubic foot refrigerator has a faux-wood paneling door. Over the refrigerator is a narrow vertical window. The deep, oversized, stainless steel sink with pot filler faucet and sink cover is in the center island. Above the island are two pendant lights connected to stationary metal pipes. The Cougar 333MKS features hand-glazed, hardwood cabinet doors throughout the trailer.
In the separate bedroom, you are indulged with a queen-size bed with a headboard and a Cougar Platinum Series Orthopedic Sleep System Mattress. There is a bedspread and throw pillows on the bed. On one side of the bed is a nightstand, and on the other side is a small window with an MCD roller shade, short curtains, and a valance. Across from the bed is a dresser and a larger window with an MCD roller shade, a valance, and a step to use as a seat. In the front of the trailer is a full height wardrobe with another night stand and a sliding mirrored door. Beside this wardrobe is a shorter wardrobe with overhead storage and an area prepared for a washer and dryer. There are two steps up to the bedroom, a wood door leading to the bedroom with a vertical mirror on the outside of the door, and the bedroom has carpeting.
The bathroom is at the top of the steps to the right. It has a residential-style shower with a bench and sliding glass door. The toilet is a residential-style porcelain toilet with foot pedal flush. The residential-style vanity has a large sink and a mirrored medicine cabinet above it. There is a power vent in the bathroom. Opposite the bathroom at the top of the stairs is a window with an MCD roller shade, a valance, and short curtains.
For the interior, there is a choice of four different prints and coordinating solid colors with tan as the main color for all four choices.
The interior is lit with LED ceiling lights, and there is an interior entry motion light.
Contact your Keystone RV Cougar dealer for Keystone RV sales to Boulder and for Boulder specials.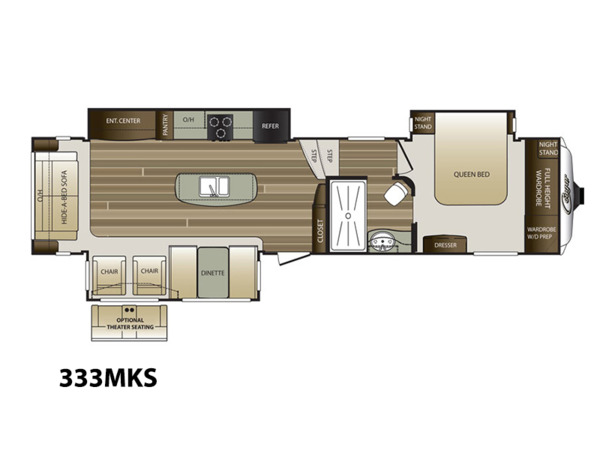 Exterior
This Cougar fifth-wheel is 38' 1" long x 12' 3" high x 8' wide. The length is measured from the centerline of the hitch pin to the rear bumper. It has a carrying capacity of 2065 pounds. The trailer features aluminum framed sidewalls, front wall, rear wall, slide rooms, and floors. The exterior surface is high-gloss medallion, gel-coated Filon® fiberglass It has a fully walkable, one-piece, tan T.P.O roof and side roofs. The underbelly and dump valves are fully enclosed and heated. The slide out floors and underbelly are insulated with R-15 astro-foil. The frameless windows slide out to open. The lighted aluminum entry steps have an extra large folding grab handle. The front cap has LED docking lights and a 15K Reesr Pro Series Hitch. The trailer offers a power front leveling jack and a manual rear leveling jack. It has extra large pass through storage with oversized doors and an entertainment hookup. For your enjoyment, the trailer has a power retractable awning. It also has an outdoor shower and a fold down bike rack. It has space for dual batteries and is prepped for solar power. This fifth wheel includes MOR/ryde CRE 3000 Suspension, electric drum rear brakes, LED exterior lighting, and a spare tire with a carrier. For Keystone RV sales to Boulder, visit your Keystone RV Cougar dealer
Mechanical
The 2017 Keystone RV Cougar 333MKS includes a 30,000 BTUs automatic heater and a 13,500 BTUs automatic air conditioner with Max Air fan and rain sensor vent. It is pre-wired for a second air conditioner. It has a 60-gallon fresh water tank, a 76-gallon gray water tank, and a 38-gallon waste water tank. The quick recovery propane/electric water heater holds 6 gallons of water. The trailer has a 14-gallon propane tank and a 60-pound propane tank. For Keystone RV sales to Boulder and Boulder specials, contact Century RV serving Longmont Fort Collins Boulder Colorado.
Safety
The Cougar 333MKS displays the RVIA seal meaning that it complies with more than 500 safety standards established by the National Fire Protection Association (NFPA) for fire, electrical, heating, plumbing, and protection of life. Manufacturers displaying this seal undergo unannounced plant inspections to ensure their compliance with these standards. Manufacturers must also post a weight label in a highly visible interior location of their RVs. The label provides information on how much weight it is safe to carry in the RV. For your family's safety, the trailer also has a smoke detector, a carbon monoxide detector, a fire extinguisher, and an LP sensor.
Century RV is the Keystone RV Cougar dealer serving Longmont Fort Collins Boulder Colorado. They can answer all your questions about the 2017 Keystone RV Cougar 333MKS. They are located at 10400 East I-25 Frontage Road, Longmont, Colorado.