Overview
The 2018 Keystone RV Cougar 29RKS is already starting to make waves in the 5th wheel recreational vehicle community that is hungry for the "next thing" in the RV world. There's a lot to be excited about with this Keystone RV. This one has all the standard luxuries and some more of them to boot. You're going to love everything that comes with this recent Keystone model. It's a half-ton of everything that's good and better about RVs.
2018 Keystone RV Cougar 29RKS Key Features
Interior
This one has a huge amount of space on the inside. It has room enough for a family of 5 to sleep. The kitchen is in the rear of the vehicle and has triple slide-outs to accommodate additional sleeping space. There is a slide out entertainment center, a second slide houses a full service theater seating entertainment center, and a sleeper just in case you want to have extra guests over for the evening. The bedroom is spacious and cozy, too, with a queen size bed for restful slumber, wardrobes, and plenty of overhead space to pack all of your important apparel. The shower with seat makes for a relaxing bathing experience.
Exterior
What's an RV experience without a little bit of barbecue? The outside kitchen features a great capital grill to host you, your family and friends whenever you want to stop by. It's the perfect social vehicle for Keystone fans. This is a half ton vehicle that's going to look beautiful parked in any campground in America. The awning on the outdoor kitchen adds a lot of charm to the vehicle's appearance, but like all Cougar models, you'll find that the exterior is but a peak of the glory that lies within the vehicle. You've got traditional Cougar colorings with a bit of flash in the logos this year.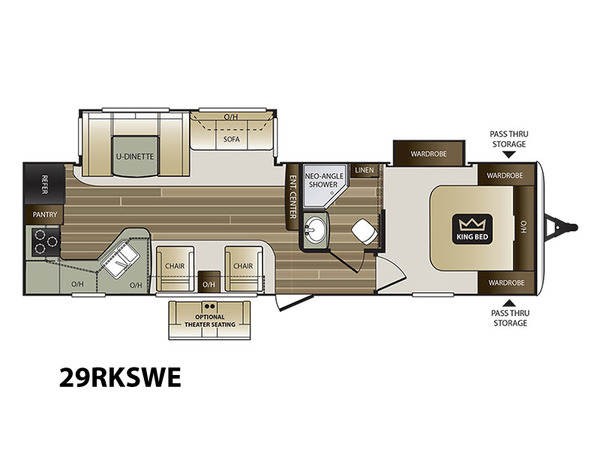 Mechanical
The functions of the Keystone RV are easy to run down. It has a 16.2 gallon water heater that runs on quick recovery gas/electric, a 50 amp electrical system, and 15,000 btu AC service. The 29RKS has everything you need to maintain a comfortable experience inside the model.
Powertrain
The 2018 Keystone RV Cougar 29RKS is represented by a Powertrain warranty. We're a Keystone RV Cougar dealer who believes in protecting our customers near Boulder CO and everywhere we serve them. When you buy through Century RV, you can be assured that you're getting the best of all manufacturer and extended warranties on the market, fair and comprehensive for all unforeseen circumstances that you could possibly face during your time with your recreational vehicle.
Safety
All Keystone RV Cougar dealer agencies should put safety above and beyond anything else in their list of goals. During our time selling these remarkable vehicles near Boulder CO, we've always put safety first. We don't just trust that these vehicles are "safe" but go the furthest we can possibly go to ensure that the vehicle you're getting is 100% safe on the road and off of it. We meticulously check electrical and plumbing systems to ensure that they adhere to all safety regulations and are ready for use straight off the lot.
Contact Century RV about 2018 Keystone Cougar Specials
Century RV looks forward to selling you your next great model of recreational vehicle. Our 2018 Keystone Cougar specials are nothing like we've ever had before. These remarkable vehicles have been on the road since 1996 and they only continue to get better, more powerful, and more like home each year. We've enjoyed watching the brand and model evolve over the years and we're celebrating with the best 2018 Keystone Cougar specials you'll find anywhere in the world.
We've been a top Keystone RV Cougar dealer near Boulder CO and beyond for decades now, with a family owned mentality that makes the vehicle you drive away in a part of our legacy and family reputation. Unlike other dealers in the area, we truly LOVE what we do. We're not doing this for money. We're doing it because we know that each and every vehicle that goes home with our customers is going to be a part of YOUR family. Today, we'd like to be an important part of your family, too, by putting you in one of these state of the art 5th wheel recreational vehicles that will add life, love, and memories to the lives of you and your children.
Call us today to ask further questions about the Cougar 29RKS. We will be there for you every step of the way, helping you investigate this vehicle further, test it out for yourself and your family, and best of all, tell you about those great specials on this brand that we have going on right now and all year long. Few brands have been as revered as this brand. We stand behind all of these amazing vehicles and know that once you see them up close for yourself that you'll want one of them for your family. It may just be that the 29RKS is the vehicle of your dreams or it could be another model on our lot. We're passionate about selling these vehicles because we believe in them and the magic they add to families. Call us, write us, or stop by and see us today. We look forward to helping your family make memories.