For more than 15 years, Cougar has ranked as the number one in its class. The modern RV customer no longer wants to sacrifice features and quality for a lightweight vehicle, and today, that RVer will be unhappy with anything less than the best. The 2018 Keystone RV Cougar 29RLI carries the altar of sacrifice and throws it off a cliff. You no longer need to put something valuable on it to profit elsewhere. If you'd like to learn more about Cougar 29RLI specials, you can contact our RV dealership serving Longmont Fort Collins Boulder Colorado. We'd love to help you with what you need.
Interior
The interior of the 2018 Keystone RV Cougar 29RLI looks like a sight to behold. The cabin features a 16.2 gallon gas/electric water heater, and you have a residential level shower with a residential toilet and an LCD TV to enjoy watching in your spare time. When your smartphone needs a charge, you can plug it up to the 12-volt charging station, and you also have solid surface counter-tops. Meanwhile, the hand-glazed hardwood cabinet doors throughout the setting add to the aesthetic appeal to the cabin. You also have a fireplace with most floor plans, and you will enjoy LED interior lighting.
Exterior
On the exterior of the 2018 Keystone RV Cougar 29RLI, you have a roof that is fully walkable, and you have a walkable slide roof. At the front of the RV, you have a patented front cap hitch vision, which stands to distinguish itself from the other RVs on the market, and if you're interested, you can visit our lot near Boulder CO. In addition, you have oversized exterior baggage doors to carry your stuff so that you don't have to clutter up the rest of your space when you travel. You also have an electric awning with LED lighting for those late nights with the new friends you meet on the road.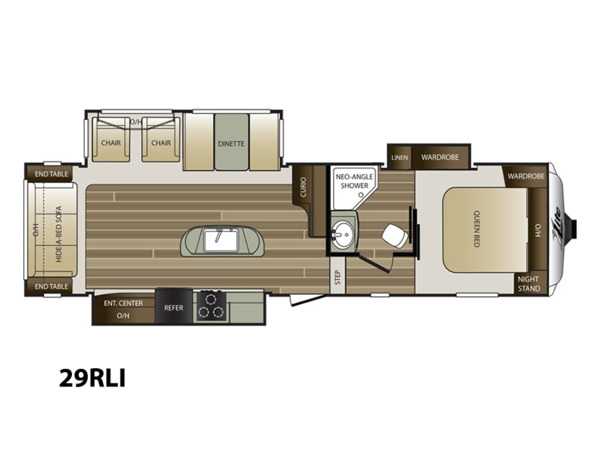 Mechanical
The raw technology in this Century RV features some interesting options that you have to see for yourself to believe. For example, you have LED ceiling lights, and a sleeper sofa with an electric four-point leveling system. The air conditioning system uses 15.0 BTUs, and it has been ducted throughout this camper. You also have theater seating for those nights where you're having adventures with your friends and want to watch a movie together. You also have a standing dinette with chairs for that romantic night in the camper with your significant other. We are near Boulder CO, and we'd love to assist you in 2018. We are serving Longmont Fort Collins Boulder Colorado. Ever entered the camper only to be unable to see 10 feet in front of you? The technology in this camper employs an interior entry motion light.
Powertrain
In terms of powertrain, you have a big powerful engine to keep you running on the road. This is the Keystone RV Cougar, and you have a choice that comes from the 29RLI model. If you'd like to learn more, you can visit our Boulder CO location for Cougar 29RLI specials in 2018. As a Century RV, this vehicle has a more than adequate engine to get you down the road to all the important hot spots like the Grand Canyon, Niagara Falls, Yellowstone National Park and Redwood National Park. With your Keystone Cougar RV, you finally have a dependable vehicle that can drive you to these locations. You will also have a second air conditioner in this vehicle to keep you cool in your Century RV. If you'd like to learn more, you can also check out our Cougar 29RLI specials, which are serving Longmont Fort Collins Boulder Colorado.
Safety
When it comes to the safety of the Keystone RV Cougar near Boulder CO, you have a rich selection of safety features. One of the first things you will like about this vehicle is the black trim safety glass windows, which protect you from people looking into the vehicle and look stylish, but at the same, they're made of safety glass. In 2018, our company sells this vehicle because it has been a popular choice. They sell fast, and our customers keep making recommendations to their friends to check this one out because it's a safe ride for the whole family.
One of the biggest problems with a long road trip in the car is how the children will drive you crazy with their boredom, but campers like this eliminate that trouble. Your children can play board games while you drive to the destination, and you can have family bonding time along the way. In addition, this gives you some moving space so that you can move around while driving. You also don't have to make the constant pit stops with a bathroom right in the camper. Why should you buy a Keystone RV Cougar from us? You should buy from us because we have friendly and knowledgeable sales representatives available to assist you. They will send you through our options and look at your needs to help you find a potential buy on the lot. With this vehicle, you have a vacation package built into your driving, and you'd be surprised how much fun you can have while driving on the highway or taking the back roads to see some of the lesser known farmlands and mountainous regions within the US.