Overview
The 2018 Keystone RV Cougar 311RES is a relatively large 5th wheel RV that has plenty of good things to please owners. It sleeps a total of 5 people, with a lot of exterior space as well in the form of awnings. Measuring over 35 feet in length, it's going to be a beast on the road and give you the ability to customize your interior with many different amenities. Century RV features the 311RES because it's one of the most popular RVs in its class. Just a quick glance at the features of the 311RES lets you know exactly why.
Key Features of the 2018 Keystone RV Cougar 311RES
Interior
The Interior of the 311RES is impressive right off the bat. You've got a queen size bed to sleep on, two-person theater seating, and optional slide out dinettes that will give you more dining options. The impressive kitchen island will give you more room to create family meals in the kitchen, while the pantry is a standard feature that will give you a handy place to store food. Perhaps the most impressive interior feature is a FIREPLACE that will make for cozy nights on the road for two. This is an additional perk that is certain to impress even the most veteran of RV owners who demand to travel in luxury.
Exterior
With two big awnings, the exterior of this Keystone RV Cougar is for more than just looks. Everyone knows that awnings give you a kind of outdoor recreational area that is a bit more rustic and romantic than staying indoors during your entire trip. Fans of the Keystone RV Cougar series will love this feature, available to everyone in Boulder CO. As mentioned, this RV measures over 35 feet in length, so you're getting an impressive sized RV for you and your family to take on the road.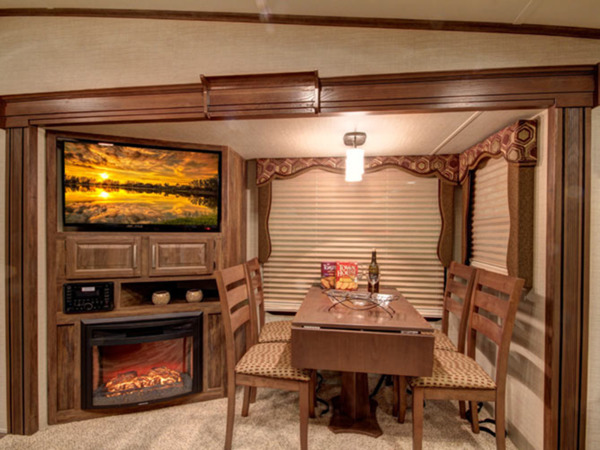 Mechanical
This RV functions like clockwork for Boulder CO owners. You've got a 30 lb LP tank capacity, 16.2 gallon water heater capacity, 15,000 BTU AC, and a whopping 81 gallons of fresh water capacity to keep your home away from home running like clockwork. You're never going to lack for the comforts of home when you're traveling in the RES311. Boulder CO buyers have an enormous amount of comfort to look forward to when they opt for this Keystone RV Cougar model.
Powertrain
A Powertrain warranty on all models at Century RV gives you the assurance that your vehicle is covered no matter what it encounters in the future. Anything that might malfunction would be completely covered by one of our powerful Powertrain warranties. No one who buys a vehicle of this price should settle for anything less than an amazing warranty. We provide that.
Safety
Our way of serving Longmont Fort Collins Boulder Colorado is to make sure that all of our amazing RVs are inspected once, twice, and more if need be. We don't just take the word of the manufacturer that everything is up to safety standards. We have our own personnel go over each and every RV to ensure that it's up to our superior standards. Our customers deserve only the best of the best. All electrical, plumbing and heating systems will be thoroughly inspected and approved for use on the road or else we don't have it on the lot. That's our promise.
Contact Century RV for Cougar Specials
We have a host of Cougar specials all year round. This is one of our most popular models and for good reason. Since 1996, Cougars have been impressing the traveling RV crowd. They offer all the comforts of home in an exceptionally surprising small space. Their beautiful interiors and rugged exteriors make them a favorite on the road. Part of serving Longmont Fort Collins Boulder Colorado area is making sure that you always get the best Cougar specials each and every time you shop with us.
Our vehicles are built to last. We've been serving Longmont Fort Collins Boulder Colorado for decades now. Throughout our time in the business, we've learned what customers want to achieve a happy transaction and it's not just driving away in a great model of RV. After all, you can buy an RV a lot of different places but the process is not always pleasant.
With our sales team, you get the best in the business. We've worked with these models of RV so long that we generally know a question off the top of our head, although we don't care at all to research your questions either. We'll never give you incorrect information or force you to do your own research. Our friendly sales team knows the recipe for a happy sales exchange. It includes great information before the buy so that there are no surprises after the purchase, ongoing maintenance and customer care after the buy, and responsive assistance when there are questions after the sale. We don't just sale a vehicle and then send you on your way. We're with you for the long haul, just like your brand new RV from us.
Contact us today via phone or email or stop by and see us. We're a family owned business that looks forward to making you a part of our happy customer family.