Boulder Keystone RV Cougar Sales
The Keystone RV Cougar is legendary among travelers who demand more from their RV models. For 15 straight years, it has been voted best in its class as an absolutely beautiful but compact recreational vehicle camping experience. You'll feel perfectly at home no matter how you are from your home address thanks to its large kitchen islands, front living room spaces, and additional features that can be tweaked at your demand. As a major Keystone dealer, we're here to share the good news about today's Cougar RV specials.
Why we sell the Keystone RV Cougar
First things first: Century RV sells the Cougar because we believe in its power and we believe in its luxury. When you travel the roads of America in this RV, you're going to have all the comforts of home during your travels. As a major Keystone dealer, we couldn't stand behind this model of RV any more than we already do. We know that the Keystone RV Cougar is built to last and to give you a lifetime of on-road adventures no matter what kind of terrain you're traveling to. It also makes a strong bid as a place that truly feels at home. Other major benefits include:
Comforts of home on the road
Your water heater on the newest models are quick recovery water heaters, so when you want to lounge in the tub, you're getting a relaxing, hot bath each and every time, for each member of the family. The kitchen islands in a Cougar are going to give your real kitchen a run for its money. No need to buy a microwave either. Most models of Cougar already come pre-equipped with them for great cooking on the go.
Technology in abundance
Anyone traveling in a recreational vehicle probably isn't looking for the rough and tumble world of camping, so the Cougar doesn't leave out any of today's modern conveniences. You've got Internet and cable hookups on the go, bluetooth capabilities, and an LCD TV to entertain your family on the road. It's a beautiful living room right in an recreational vehicle.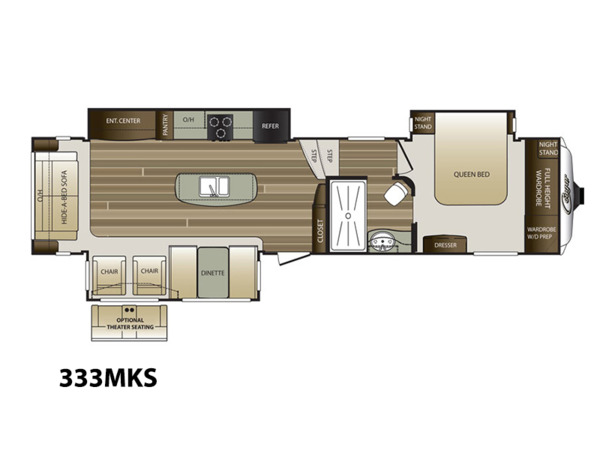 Orthopedic mattresses
Sleep in a recreational vehicle doesn't have to be a nightmare. When you buy from this Keystone dealer, rest assured you can look forward to a good night's rest. Cougar RV specials include those models of Cougar that feature orthopedic sleep mattresses. Never miss a good night's rest as you travel the country. Century RV really likes this aspect of the Cougar. The creators thought of everything to make your new Cougar feel like a real honest to goodness home.
Serving Boulder Keystone RV Shoppers
Century RV takes serving Boulder Keystone RV shoppers very seriously. We offer Cougar RV specials frequently because we know just how powerful and comfortable these vehicles are. They're packed with safety features, too, to help you stay safe on the road and off the road. Our RV sales to Boulder Colorado are the best in the business because we know how to give you the savings you deserve when shopping for this little home away from home.
Our RV sales to Boulder Colorado have been a huge success in the decades we've been in business. We work with each individual family to put them in a recreational vehicle that will be on the road for decades to come. Like our own business, we believe that recreational vehicles should be out there and productive for decades, not years. Our RV sales to Boulder Colorado continue to be one of our proudest achievements in our entire time in business.
Contact us for more information
We look forward to serving Boulder Keystone RV shoppers. Keystone is a premier name in recreational vehicle creators and their finished product is almost always a masterpiece. They certainly did right by travelers when they designed and produced the Cougar. For 15 years running, these vehicles have a reputation for excellence and safety that can't be matched by other makers. When you think of a great recreational vehicle, the name Cougar is likely to come into the picture a time or two.
We can help you decide if the Cougar is the right model of recreational vehicle for you. We will take as much time as is necessary to help you understand each and every one of the features of the newest model of Cougar and the older models. We have both new and used Cougars available. Whatever your budget is, we work with you on financing to make sure that you get a Cougar you can love AND afford. Our specials are second to none.
With decades of experience in recreational vehicle sales, we know how to put you behind the wheel of one of these traveling homes. You and your family is going to travel with pride, comfort, and style if you shop with us. We meticulously maintain our used vehicles and make sure that our new models are straight off the assembly line and into your hands. Let us put the keys to a brand new or used Cougar into your hands today. Contact us today to hear our specials and begin searching for the right model year for you and your family. All it takes is a simple phone call to put you and your family on a path to traveling the country in what truly feels like a home.