Cougar RVs for Sale Near Colorado Springs, Colorado
Century RV has Colorado's largest selection of New and Used Cougar RVs for sale near Colorado Springs. Our Cougar RV Dealership has two locations: Denver and Longmont Colorado. So if you are looking for a Cougar Fifth Wheel or Cougar Travel Trailer, then check out our huge selection of Cougar RVs for sale here.
A recreational vehicle - or RV - is one of today's most fascinating vehicles. You get all of the convenience of home right on a set of wheels that allow you to travel the country. For those who love to roam, the RV is the holy grail of vehicles. You get a miniature version of a home that can take you to anyplace you want to go. As a Keystone Cougar RV dealer, we highly recommend taking a look at one of today's most impressive RV models. The Keystone Cougar has a lot of history behind it that reveals its true character. For our customers, Keystone stales speak for themselves. People love these vehicles. Here's why.
Why we're a Cougar RV dealer
To put it simply, we feature the Keystone Cougar because we believe it lives up to its reputation as the best in its class. The Keystone Cougar has been on the road since 1996. That's a long track record of success, and we are more than willing to vouch for the reasons behind that success. Our Colorado RV dealership knows which brands stand out from the rest, and Cougar is definitely one of our most popular selling RVs. This is true for a number of reasons.
Cougar Sales
12,000 Cougars are manufactured each year and the outcome is always the same: These vehicles drive off the lot once a customer learns that they can afford one. They have both an impressive exterior and interior. The reason our Colorado RV dealership sells Cougars is because we believe in the brand, of course, but it's also because our customers LOVE the Keystone RV Cougar. As a family owned dealership, we're all about giving our little family of customers what they want, and most of the time what they want is the Cougar. Keystone sales speak for themselves.
Cougar RV Benefits
Century RV knows that today's RV buyer needs an RV that has extensive technological capabilities. You want cable and Internet on the go, LCD televisions, and wi-fi access. Our Colorado RV dealership knows that the Cougar packs all of these things into their packages. We are serving our Colorado RV shoppers by making sure that our Cougars are available packed with all of today's little mobile conveniences. Play games on the road, watch television, and send out messages through Cougar's massive online network inside the RV.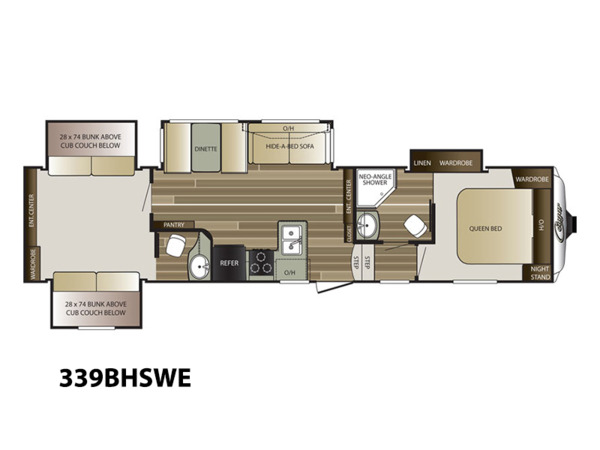 Impressive interior
We're also serving Colorado RV shoppers by giving them their choice of an RV that is very well known for its interior blessings. Our Keystone sales come about because Cougars are absolutely packed with a home away from home. The living rooms are spacious and front and center, the kitchens are almost fully equipped and contain beautiful surface tops, and the mattresses aren't just perfect for sleeping in an RV, they're perfect. Period. With orthopedic mattresses, stainless steel microwaves, and furnished living rooms, the Cougar is ready made to step into and fall in love with.
Call Century RV today
Everyone here at Century RV wants to welcome you to the family. We are a Keystone RV Cougar dealer that doesn't just believe in selling you a great Cougar. We want to be the place you call during the entire lifespan of your RV. Far too many dealerships sell and abandon their customers with a "now it's your problem" attitude. We're a family dealership that doesn't believe in this kind of nonsense. When you use us as your Keystone Cougar dealer, you're going to notice the human touch that comes with each of our sales. We treat you like family during pre-sales and we treat you like family after the sale.
We're serving Colorado RV shoppers with perfect customer service during the sale. Call us any time and we're going to answer all of your questions. We'll set you up with documents loaded with information about your potential purchase and then we'll take the time to explain each and every last detail to you. We've never been accused of rushing a sale through. We believe that in order for a customer to be satisfied with their purchase, they need to have been fully informed of all information about that vehicle. What we mean by serving Colorado RV shoppers is that we support a very thorough sales process that puts the keys to a brand new Cougar in your hand, fully informed of all details of that vehicle.
After the sale, we still don't just leave you to yourself. You'll find our warranties and service are above and beyond what you'll get anywhere else. Why? Because even after the sale, we want to keep in touch and know all about your beloved new Cougar. If there's a problem, we want to fix it. You'll get the same kind of friendly, down home treatment after you buy from us as you did before you bought. That's because we believe in making long-term customers out of everyone. We don't just want to sell you this new Cougar today. We want you to buy your next RV from us, too.
Give us a call today and get started on the most pleasant RV dealership experience you'll ever have in your life. Our friendly staff is always standing by, ready to initiate a process that will lead to your driving off the lot in the perfect RV.