Overview of the Cruiser RV 2790DB
Century RV in Longmont Colorado is home to some of today's finest RVs, and the Cruiser RV 2790DB fits that description. With a spacious living area, cozy bed, and convenient slide-outs, you're going to find a lot of reasons to hit the road for some rest and relaxation. As a Longmont RV dealer, it's our goal to save you money on today's best RVs. The Cruiser RV is world famous for all of the many things it manages to accomplish in its given area while at the same time managing to remain affordable to the majority of customers. If you don't know much about the Cruiser RV 2790DB, get ready to learn!
Living Spaces
There are two ways to enter this Cruiser RV, a very handy two-entry system. When you're out on the road, this is one of the major perks. Tired legs prefer as many ways to get to home's door as possible. The bedroom is on the right in this one. A handy double kitchen sink gives you plenty of elbow room to do the dishes with a traveling companion or even alone. And the bathroom area is one of the most convenient because you can enter from the outside, not just the inside. It also includes everything you need: Sink, shower, and sink.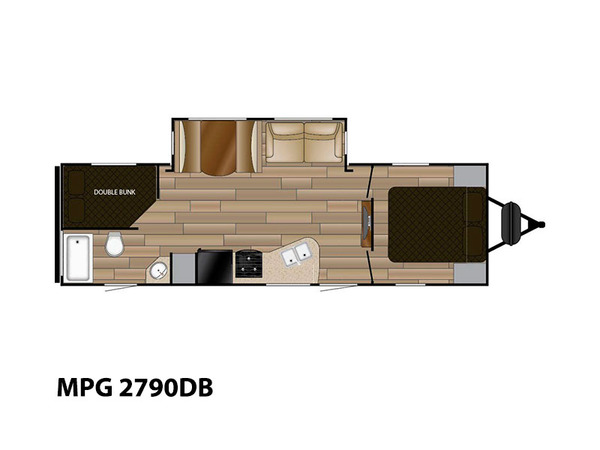 Storage in the kitchen is going to give you plenty of room to work. If you're on the road for some time, you'll always have plenty of kitchen storage to set up. As a Longmont RV dealer, we know how important it is to have that functional space in order to conduct life just like you're at home. There's a dinette in this one as well as a slide with sofa that will give company a cozy place to curl up and sleep. Space is always super important and they really maximized the available space in this one.
Measuring in at 11 ft 3 in long and 8 ft high, this one isn't the largest RV in the world but it will make you feel right at home with the way that things are lined up in the RV. Plus, you're only looking at a hitch weight of 640 lbs. And despite the exterior size, this one sleeps a full 8 people, giving you the ability to take even the largest of families on the road in style and comfort. There's very little reason NOT to have a look at this one in Longmont Colorado. It'll be a companion on the road, especially with the bunk beds that are in there. It's perfect for families with children or people who travel frequently with friends when they have the time.
Our dealership is capable of giving you the very best deals on Cruiser RVs and we'd love to prove it when you stop by and see this one. Better yet, we can give you a full tour of the vehicle or even start financing right online!
Stop By Century RV Today!
If you already know that you want this RV, it's simple. We'll get started with financing immediately! If you're not quite sure and need to see the RV before you commit to a buy, just give us a call, write to us on our website, or stop by our lot and get in touch with one of our friendly salespeople. They're always ready to share the good news of these RVs with you!
We've been in this business for a long time now. We're a family owned RV dealership with a friendly, patient approach to selling RVs. YOU'RE THE BOSS! When you visit us, you're going to tell US what you want to see and when you want to see it. There's never a time that we're going to pressure you to buy, although we would like to tell you in advance: We love the RVs we sell! And we have no problem telling you the thing that we like about these vehicles, as well as addressing the concerns you might have about particular features. We'll sort through things together when you stop by and see us. Give us a call today or write. We look forward to serving you.