Cruiser RV MPG 3100BH Overview | Longmont CO
Century RV is here to help you take your family out on the road in this remarkable Cruiser RV MPG 3100BH, a larger fifth wheel RV that is sure to give you many great memories over the year. There's nothing quite like hitting the road with one of these in tow in Longmont Colorado. As a longtime Longmont RV dealer, we've learned what RVs match what families. Every family has different needs when it comes to overall weight of the RV, number of beds and slides, entertainment options, and amenities. We're here to help you find the right RV for YOU.
For many people, the right RV will be this Cruiser RV. We feel like the Cruiser RV MPG 3100BH will be well-suited to families of 7 or less, due to the sleeping occupancy restriction of 7. And there's plenty of privacy in this one too. Let's take a closer look.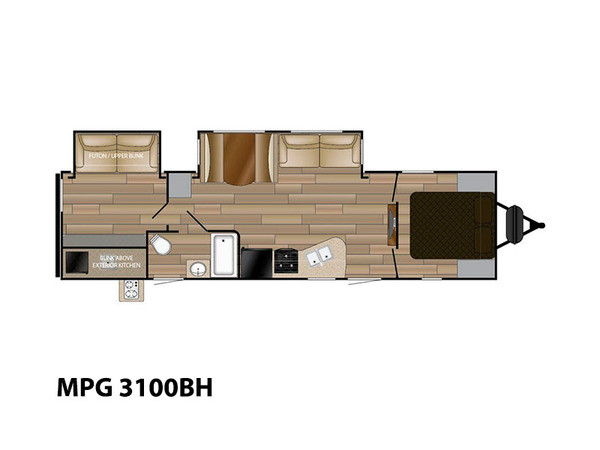 Primary Features
The living quarters of the MPG 3100BH features a television in the center of the living room area, and that's going to work well for families who watch a lot of TV, even when they're RVing. You'll appreciate the living room's spaciousness. The booth dinette gives you a lot of storage space as well. Overhead cabinets are a favorite of Cruiser RV, so expect a lot of overhead storage space and room to take things along with you. There's nothing worse than a trip on the road without enough room to bring everything you need with you, so Century RV feels that this one is going to be best suited to families who long to take it with them when they go.
Convenience is built into this one as well. You can access the bathroom from the outside of the camper, so you don't have to walk all the way through just to take a bathroom break. This is perfect for those who appreciate shortcuts. Camping trips can sometimes be exhausting so every little bit of convenience helps! The outside kitchen is going to please those cooks out there, too, thanks to the fact that two people can cook at once without getting in each other's way. For people that travel with friends or for people with older kids who like to cook, this works out great. There's more than one range to go around.
A Few Extra Details
The MPG 3100BH has another terrific little secret. It has a bunk house that's ideal for people who want to give their kids some privacy on every trip. They'll have their own futon and area of the RV without having to worry about anyone getting in the way. We can all use some alone time, even if we're in a close-knit family and so we love this little extra here at Century RV.
Come See It Today In Longmont Colorado
Do you like what you've heard so far? As a Longmont RV dealer, we're anxious to show you everything that this RV can do for you. To get in touch with us, all you have to do is contact us on our website or give us a call. Many people prefer to stop by, and we love that too! When a new customer reaches out to us to ask about a a particular model of RV, we're always excited to share our love of these vehicles. And since we've been in this business a LONG time, we know exactly what it takes for an RV to meet the needs of an individual or a family. Travel is different for everyone. Some people need a lot of space while others prefer something simple and more full of amenities.
No matter what you're looking for, we've got it! It's possible that this particular Cruiser is going to be just the thing you're looking for to add to your household. Or it could be that there's another RV here on our lot that is going to meet your needs. You'll never know until you call or write. Whenever you're ready to get started, just leave us a note on our website, call us at our dealership, or better yet, stop by and see us. We'll be waiting here, ready to help you find your next RV. See you then!