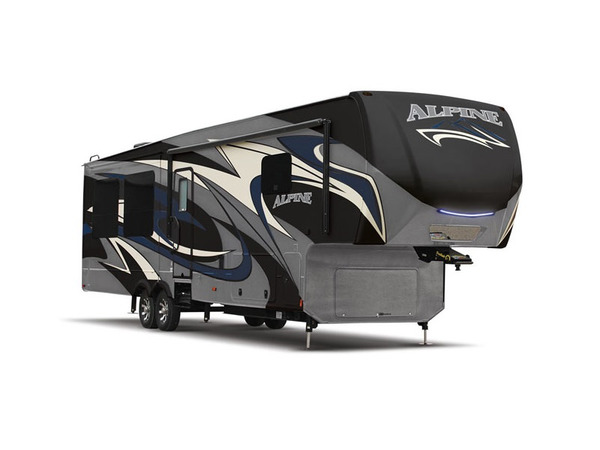 Get To Know The Keystone Alpine 3660FL
Keystone has a full line-up of luxury 5th wheel RVs, of which the Keystone Alpine 3660FL is a standout from the crowd. And Century RV Longmont is a Keystone dealer that makes sure their customers in Longmont Colorado gets only the finest of those luxury RVs to choose from when they shop with us. Outstanding deals, friendly salesmanship, and a commitment to quality make Century RV Longmont dealership a premier source of today's finest RVs.
The Keystone Alpine 3660FL is a mix of big ambitions and big delivery. As a longtime Keystone dealer, we know a great RV when we see one and the Alpine 3660FL certainly fits the bill. With 2 comfy sofas, a sleep count of 6, and a lush King size bed that's fit for, well, a king, you're certain to find a lot to love about this one.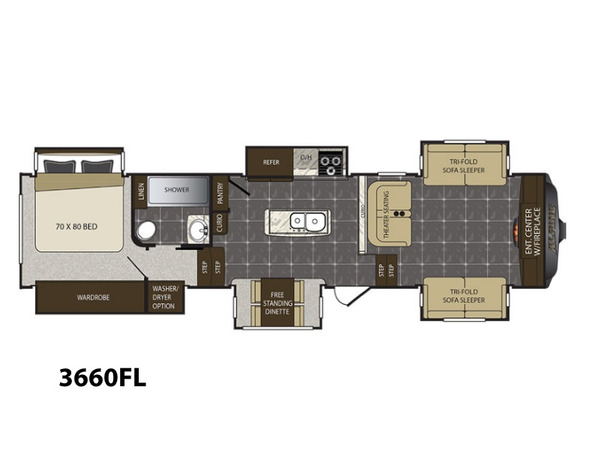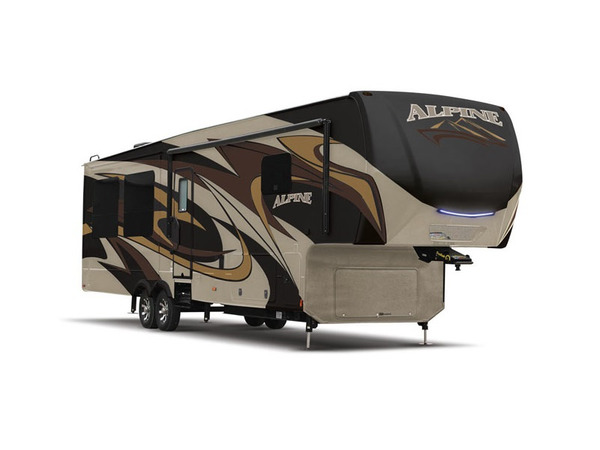 Interior
Living area
There's two big vinyl sofas in this one to accommodate guests or children traveling with you. You'll get 2 televisions in this one, one of them in the living room, and that's perfect for families traveling together. You can always use some entertainment on the road. The Alpine 3660FL features a spacious living area that will give you and your families memories to last a lifetime. There's also a radio with surround sound that will fill your days and nights with music.
Kitchen
The biggest amenity here is the full-size refrigerator that's going to make extended road trips an absolute breeze. There's no worrying about stocking up on food. The fridge has you covered in the 3660FL. Century RV Longmont is especially fond of the kitchen area in this one. A 3-range stove will give you and your family delicious meals for decades to come.
Bedroom
The master bedroom is home to a king-size bed. Anyone who's going to travel a lot will benefit from the comfort of a king-size bed. You'll get an enormous number of sweet dreams in this one!
Other features
Hopefully we've already given you enough reasons to come down and view this one, but if we haven't, here are a few more things you're going to love about the Alpine 3660FL:
6 slide-out awnings
2 convertible/sofa beds
Master bedroom mirror doors
Air conditioning
12 g water heater
And the list goes on and on. If you're in Longmont Colorado, it might be time to schedule an appoint to go over the other many features we just don't have the space to cover here. You're going to be amazed!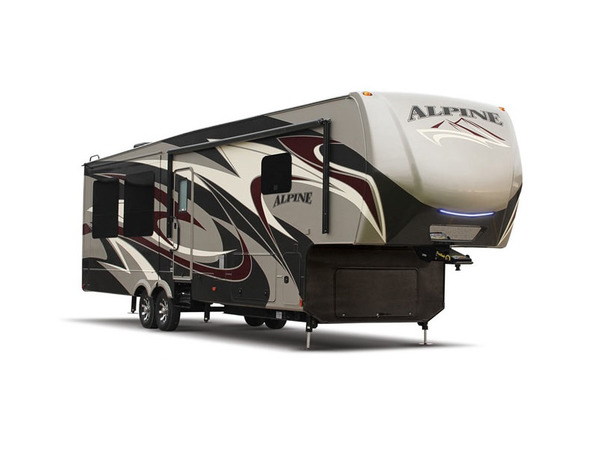 Come See It Today
Like Keystone itself, we believe in quality and comfort, first and foremost. When we sell an RV, we know that we're selling you what amounts to your home away from home on the road. You need an RV that isn't just easy to transport but that's going to feel like home when you step inside the door. Likewise, we want you to feel like you're home when you visit us here. Always devoted fans of the Keystone brand name, we fully believe in these powerful and highly functional RVs. They know how to make your 5th wheel feel like home.
We would love to set up a viewing for this Alpine model. In order to set up an appointment, all you need to do is write into us here OR give us a quick call and tell us that you're interested. Maybe you want to see another model? That's fine too! We're here to serve you from the moment you contact us. We're going to make the decision to buy an RV an easy one because we know that we have a model here that's going to add years of happiness and memories to your life. Let us show you this Alpine model or any other model that you're interested in! Just contact us today via web form or call us. Better yet, stop by and see us in Longmont. We're always waiting to make our next customer happy. Call, write, or visit us when it's convenient to you!