Cruiser RV MPG 3130WS Overview
The interior walnut color of the Cruiser RV MPG 3130WS sets the tone for the rest of the interior, a little touch of home on the road. This Cruiser RV is among the best of the model's offerings, with a standard television set for entertainment and many slides to make sure that you always have access to the functional objects of everyday living on the road. A super nice kitchen and reasonable pricing options make it a fan favorite here at Century RV. We think you're going to love it, too.
Century RV is a Longmont RV dealership that strives to tell RVers the good news about the best RVs in the world right now. The Cruiser RV will definitely rank among those for the value. The MPG 3130WS is the perfect RV for buyers with children thanks to the spacious bunk area. Let's get down to specifics!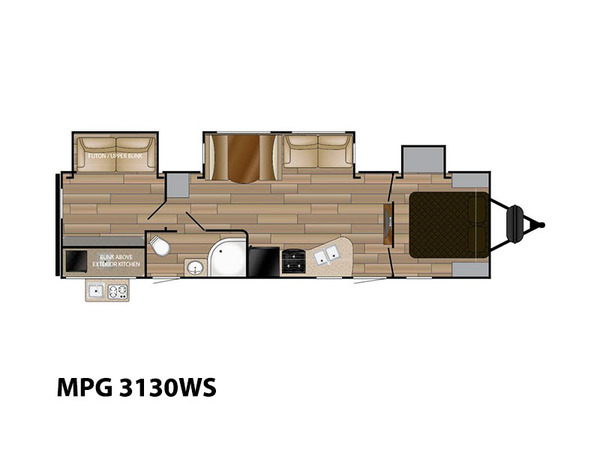 Highlights of the MPG 3130WS
Storage is plentiful in the MPG 3130WS. The master bedroom area is spacious enough, with a standard bed, but what stands out the most is the enormous amount of storage space you're going to have on the road within the bedroom's interior. You've got overhead storage and one additional slide to give you even more storage. If you take a lot with you on the road, you'll love this RV.
The bunk house is the standout feature of this one. Buyers with children will be thrilled with the bunk house. You've got a futon slide to accommodate your children while you're traveling, and they're going to love having their own little space within the RV. Privacy is a must sometimes, especially if you're going to have a long outing on the road. Parents will love their privacy, too.
The kitchen areas are the other big news here. You've got both an interior AND exterior kitchen, for some outdoor cooking that is sure to be fun for the whole family. The interior kitchen is composed of 3 burner range, overhead cabinet, and a fridge for your convenience. The exterior kitchen is adequate, too, with a two burner range and a fridge as well. The designers here have managed to capture two different areas of the RV so that parents and children (or other traveling companions) can feel like they have their own space, too. If you travel with friends, they'll appreciate this design.
Seven people can call this RV their home on the road, so it's plenty big enough for large families or groups of friends who love to travel together during the year. It's also a great place to escape to when you just need time in the great outdoors but don't feel like going all the way back home after a day out. You can always take this one along with you for your few days away from civilization. It's a terrific buy and very popular here in Longmont Colorado. As a premier Longmont RV dealership here, we highly recommend it, especially to couples with children or people who travel in groups and need to have a sense of private space for both traveling parties.
Packages
Just as a note here, they have many optional packages that you can choose from that will enhance your experience on the road. We welcome you to view them! They have interior, exterior, and the "Extended Season RVing Package," which we strongly encourage you to ask about. What you see on these machines is not always what you get. There are optional features that will enhance the standard package.
Come See The Cruiser RV MPG 3130WS Today
If you're from the Longmont area, we invite you to visit us and view this terrific RV. If you're not from there, we invite you to come see us in Longmont Colorado so that you can see this RV up close. To get a full sense of its features, you're going to need to walk around inside it, inspect the exterior, and really get a feel for what it would be like to stay in this RV during your adventures on the road. Our salespeople really take time with each and every customer to learn their needs and help them find an RV that is going to be a faithful traveling companion to them years and years in the future.
What we want is to make a customer for life. Because of that, we're not going to rush things, rush deals, or pressure anyone to buy an RV. What we want to do is share our passion for RVing WITH you and use our knowledge of the technical specifications to help you pick out an RV that you truly WANT to buy. It's our goal to make sure that every single customer leaves with a 5th wheel RV that meets and exceeds every single expectation, the very best RV that they could have gotten for the amount of money that they have to spend. Due to our habit of being a very efficient dealership, we can always pass along savings to our customers. If you're interested in buying this RV or want to browse our other inventory, we invite you to do that today. We're always here, ready to serve you and help you find the best RV for the money. Call, write, or stop by today! We'll be here ready to serve you.