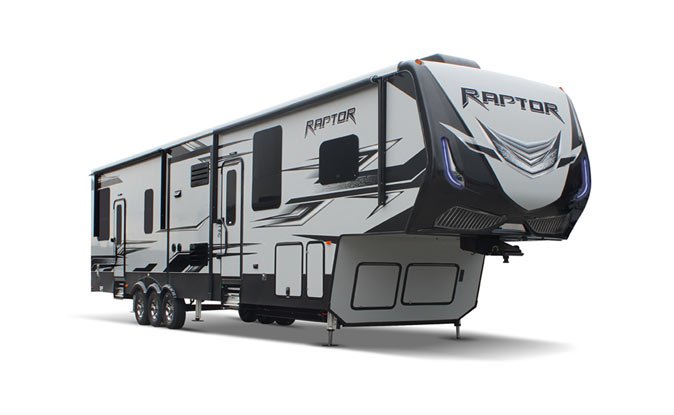 Keystone Raptor - OVERVIEW
As the name suggests, "toy haulers" remain one of the most eagerly sought-after travel trailers for sale today. These popular recreational vehicles include built-in storage space for parking desirable overland, maritime or airborne vehicles. Use them to accommodate ATVs, dune buggies, jet skis, drones, paragliders, motorcycles, compact vehicles and other fun items. Or simply employ the extra space to store additional cargo and gear. You'll love the flexibility offered by these in-demand, versatile trailers. Your local Keystone RV dealership in Longmont can help you find the Keystone Raptor Toy Hauler Fifth Wheel of your dreams! While older fifth wheel toy hauler models sometimes lacked extensive built-in comforts, the modern versions of these products supply exceedingly plush living spaces. The newest 2018 models by Raptor furnish sleeping facilities and dining and bathing areas for up to nine people. If you'd like to transport a group in style to recreational areas, you'll appreciate the utility of these trendy fifth wheel products.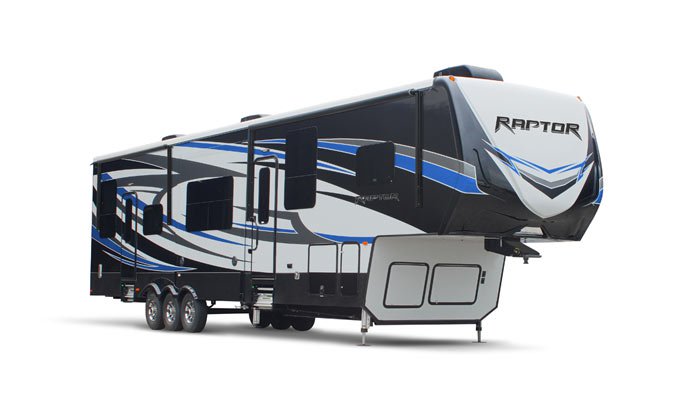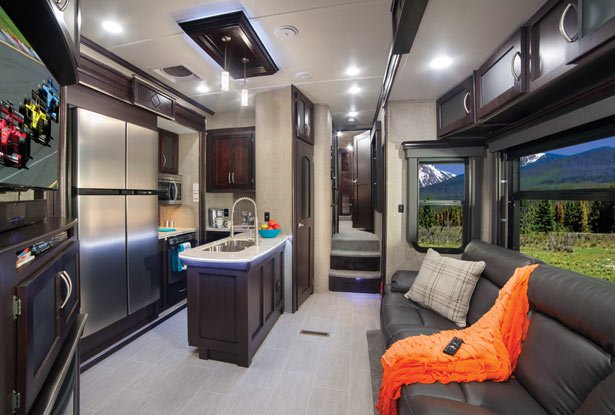 Keystone Raptor - THE FEATURES OF A GREAT TOY HAULER
What types of features do most people seek in a great toy hauler? First and foremost, the ability to transport recreational toys into back country areas inspires the design of these RVs. They must furnish ample space to haul cargo and load (and off-load) it conveniently. Additionally, since many hobbyists expect to use a toy hauler in rugged locations, look for one of these sturdy fifth wheel vehicles to supply generous ground clearance. The Keystone products in this category offered through Raptor satisfy both these criteria. You'll appreciate the handy vehicle loading ramps when you fill the cargo garage with all your favorite toys. The sturdy doorway steps provided with these models gives you the assurance of thoughtful, careful engineering. Ask your Longmont RV dealer serving Fort Collins Boulder Longmont Colorado to give you a personal tour so you can review examples of these exciting trailers.
Keystone Raptor - A HOME-AWAY-FROM HOME
Modern Raptor toy haulers easily double as mobile residences during extended excursions. The new 425TS model offers a shipping weight of 15,470 pounds, for instance. Drivers can tow this trailer behind many brands of full-sized pickup trucks. While you will require towing capabilities, you'll discover many vehicles on the market today capable of fulfilling your payload specifications. The toy haulers offered by your local dealership serving Fort Collins Boulder Longmont Colorado customers provide the important basic amenities you'll need to enjoy active outdoor pursuits to the fullest. In addition to ample sleeping space, these trailers offer fully-equipped kitchens and bathroom facilities. Some models (such as the 425TS) even provide a full bath with a walk-in shower and a half-bath. Imagine how much your travel party will enjoy returning from a fun day of vigorous off-roading, rock climbing, paragliding, jet skiing or diving to relax around a comfortable dining table in one of these luxurious fifth-wheels!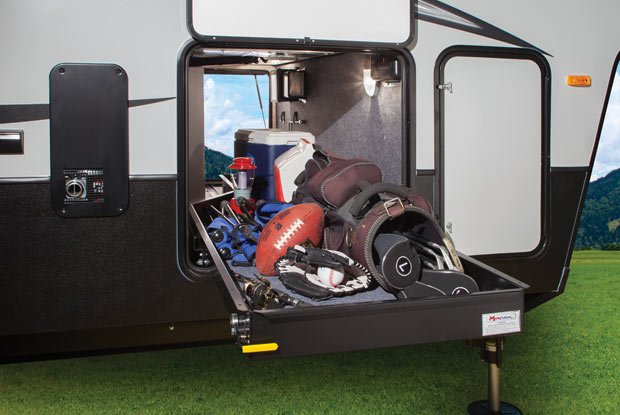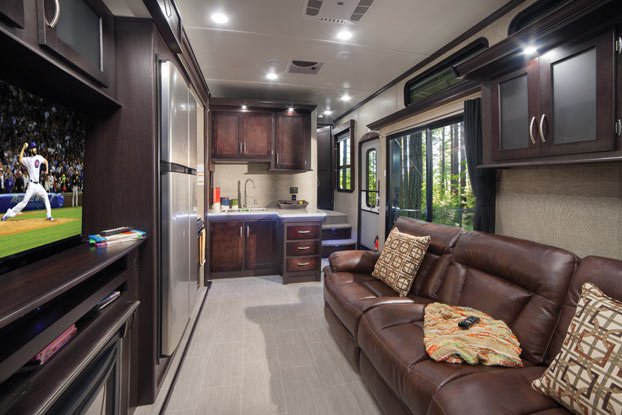 Keystone Raptor - THE OPULENT NEW RAPTOR TOY HAULERS
The Raptor toy haulers we carry at your Keystone dealership include some very elegant accommodations. Ask your Century RV dealer to discuss different floor plans and models with you. Some models offer walk-in closets, sleeping lofts, built-in televisions, spacious countertops and electric awnings. These trailers supply excellent temporary housing for employees stationed at remote job sites. Vacationers and film crews appreciate them, too. Your Longmont RV dealer can assist you in evaluating the best products to fit your goals.
Keystone Raptor - CENTURY RV: YOUR LONGMONT RV DEALER
Would you like to explore how a sumptuous Keystone Raptor Toy Hauler Fifth Wheel will assist your plans? Contact Century RV today! Let's discuss your next recreational vehicle. We carry an impressive inventory of new and gently used travel trailers and RVs for sale. Toy haulers don't arrive on the lot every day! Yet if you would like to learn more about these outstanding specialized travel trailers, we provide an excellent resource for researching these products. Our inventory changes frequently, since we sometimes receive new items in stock on comparatively short notice. We'll help customers locate new or used Keystone Raptor Toy Hauler Fifth Wheel trailers meeting their specifications. Ask us to assist you in customizing your next toy hauler to satisfy your goals.
Keystone Raptor - CONTACT US NOW
Whether you seek this trailer primarily to enjoy leisure time adventures in the beautiful Front Range, or you desire comfortable portable accommodations for employment purposes, we'll assist you in finding a suitable RV for sale. We can accommodate large orders. Call us today toll free at 866-535-6300 or visit us at 10,400 East I-25 Frontage Road in Longmont, Colorado to receive the most current information. We look forward to helping you realize your RV goals!