Longmont Keystone RV Cougar Dealer
Century RV has decades of experience. We're a Keystone RV Cougar Dealer in Longmont that takes a family-oriented approach to RV sales. After all, we're a family owned business, so we know what it means to have a recreational vehicle the entire family can enjoy. Certain models of RV stand out from the rest. Our Cougar sales are among our most popular of all RV models, so we're going to tell you why you should go with Keystone for your next RV purchase. The Cougar especially represents why Keystone is among the best in the business at what they do. From lavish interiors, to exceptional value for the money, you're going to find a lot to love about the Cougar.
Why Century RV Loves The Cougar
The Cougar caught our eye many years ago and has since become an RV we truly believe in. As an RV dealer, we see a lot of different RVs come and go over the years, many of them without so much as a noise. The Keystone RV cougar was different from the beginning. With 24 big floor plans to choose from, including options that let you make bunk rooms for the kids, there's no shortage of dream homes that can come from a Cougar floor plan. And you're going to get all of these modern conveniences while "camping" from city to city.
For the last 15 years, the Cougar has been first in its class. It gives you a lot of luxury for a more economical price and that's why pretty much any RV dealer is going to mention this gem before selling you anything else. Century RV has always had excellent feedback on the Cougar from our happy customers. Here's why.
Floor plan options
With over 24 floor plans to choose from on the newest model, the Keystone RV Cougar gives you room to craft your dream RV. Cougar sales are always high because of this fact. You can handpick the types of rooms you want, the types of materials you want in your kitchen, and the type of technology you need in your RV. As an RV dealer, we appreciate options. That's what our customers want and Cougar sales reflect that Keystone delivers these things.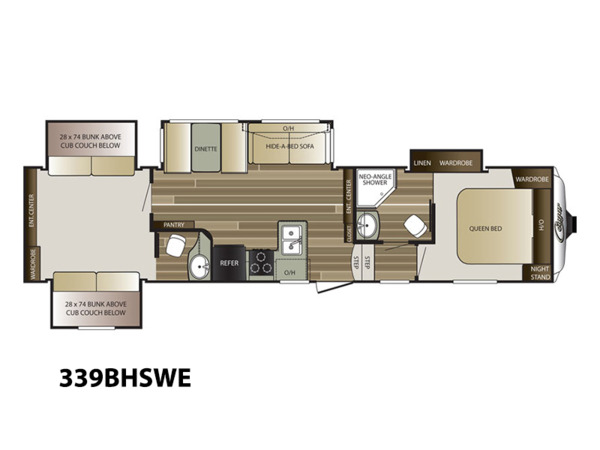 A luxury bath
Bathing on the go doesn't have to feel like you ever left home thanks to the shower/tub combination in Cougar RVs. The Cougar has a residential type shower and bath that will make you feel like you never even left home.
Packed with entertainment upgrades
If you've got children, don't be afraid to upgrade your Keystone RV Cougar to include a number of amazing technological perks. They have Bluetooth capability, LCD televisions to keep the kids entertained, and Wi-Fi access that lets you take the Internet with you as you go. Some of these options will come with a specific floorplan while other times you can upgrade to include them. They haven't left anything out here.
High ratings
All across the board, the Cougar has some of the highest rankings in its class. It accomplishes this by giving our customers plenty of standard features while also handing out some of the most amazing upgrades in the business.
Keystone RV Cougar Dealer in Longmont
Longmont residents will be pleased to know that we are serving Longmont Boulder Fort Collins Colorado with some of the land's best deals on Cougar models. Whether you want a brand new Cougar or you're looking to buy used to save money, we're going to have the vehicle for you. We're a family owned Keystone RV Cougar dealer in Longmont that knows how to put our customers on the road to luxury in one of these RVs.
We are also serving Longmont Boulder Fort Collins Colorado by making sure that our prices are as competitive as they come. We're going to fight for your business, compromising if need be, to help you drive away in one of these vehicles. We're a strong believe in the Cougar as a bestselling model of its kind and we're willing to prove it by working with you through financing options and other means to make sure that you buy from us and keep coming back in the future. The customer relationship is extremely important to us. We don't just sell you a vehicle and send you on your way. We want you to feel like you made the best decision in the world by buying an RV from us.
Call your Cougar Dealer in Longmont today
We want to put you in one of these beautiful RVs. Call or write to us today to find out more information about Cougar models, financing, upgrades, and standard features. Whatever questions you have, we'll respond to you promptly and make sure that you know you're making a good decision by buying one of these vehicles. We're a very transparent Cougar dealer in Longmont. We want you to know exactly what the Cougar offers and make sure that it's what you need.
We're the dealer that loves serving Longmont Boulder Fort Collins Colorado. We love to help our customers during the sale and we keep in touch after the sale, too, so that we know you've gotten the best deal and that your Cougar is living up to your expectations. Call or write today!