Longmont l Forest River RV Cherokee Grey Wolf Travel Trailer

Forest River RV - OVERVIEW
The Grey Wolf RV travel trailer has a mission. For couples on the go, it fits just right. You've got all of the comforts and amenities you'd expect in a modern recreational vehicle. It doesn't ask you to pay for frills you don't want. This Longmont travel trailer is ready for any campground. It has all of the utilities you need and is designed for easy hook up and disconnect. You'll find that it is just right for lake retreats and mountain getaways. It's a good way to go to the racetrack or big game without needing a hotel room. You can get close to the beach or enjoy time in a national park without needing a restaurant. When you aren't tempted outdoors, you'll feel at home in the temperature-controlled environment. From a full bathroom to a well-equipped kitchen, everything needed for daily living is there. For full layouts and other information, talk to the staff at Century RV, your Longmont RV dealer.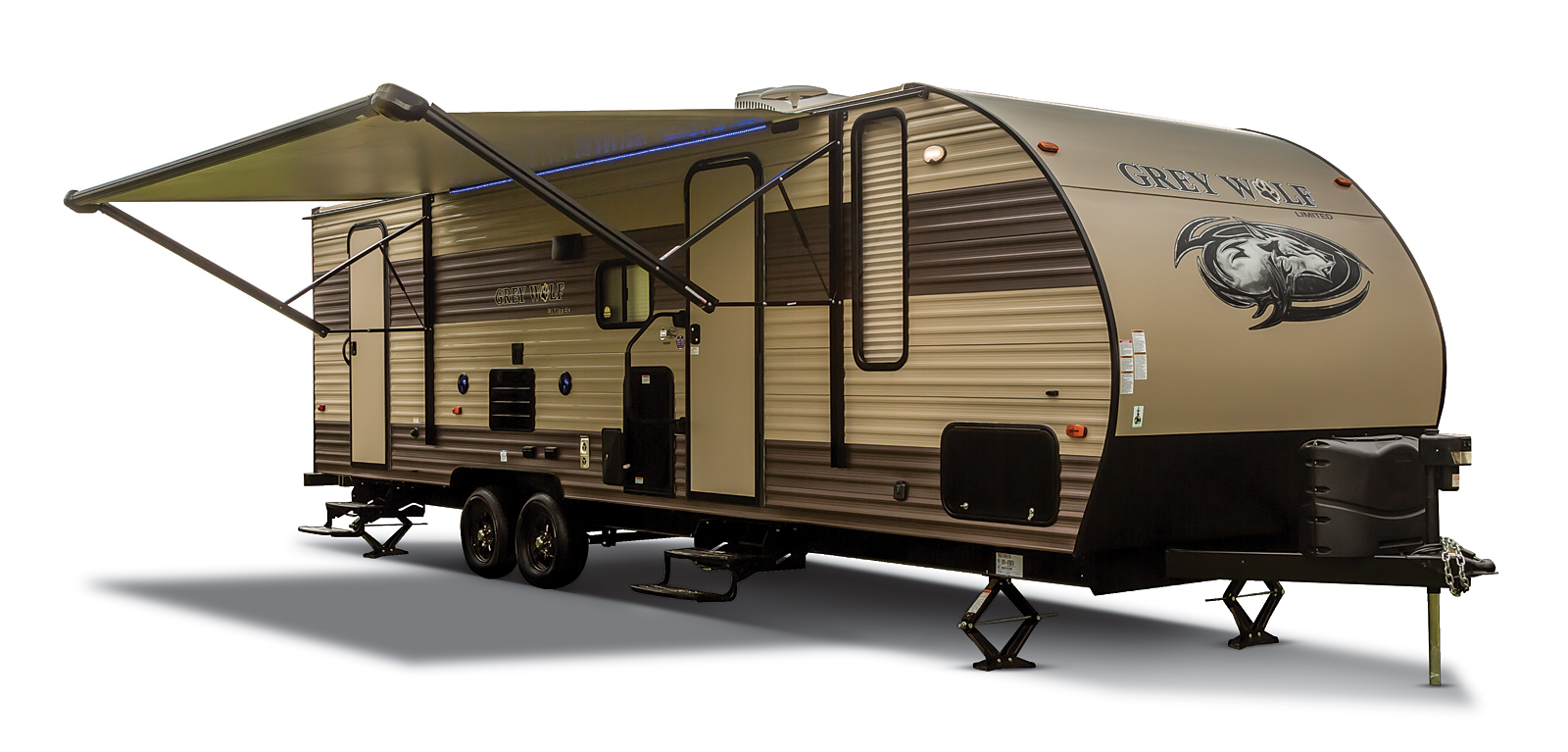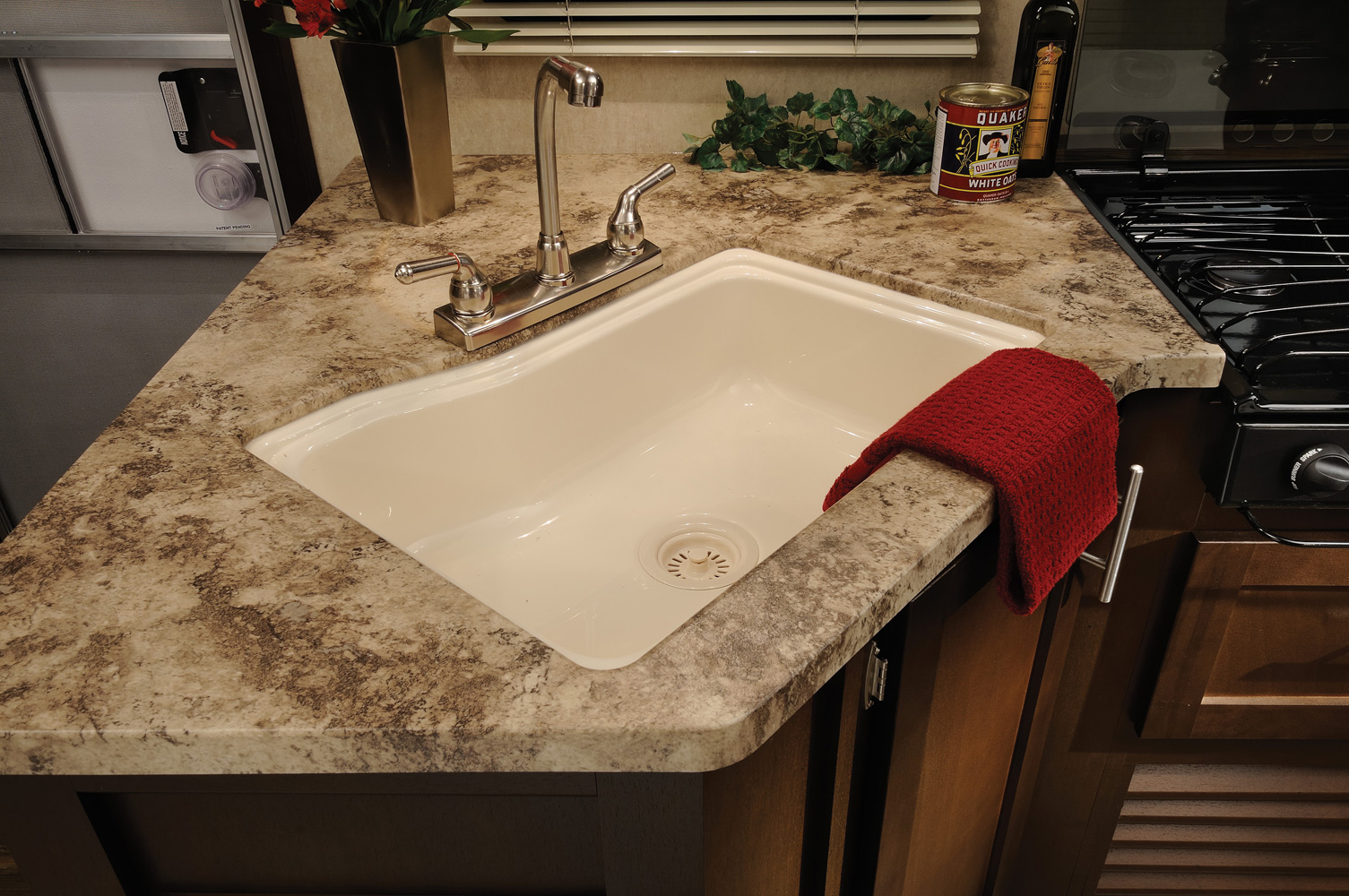 Forest River RV - EXTERIOR
The Grey Wolf has an aerodynamic front profile. This makes it more friendly to fuel economy. A front stone guard helps protect your RV investment. Upgraded graphics add to its contemporary look. Two-toned exterior metal includes colored front and rear panels. The one-piece roof material is especially sturdy. The luggage doors have a wide radius to ensure easy access. A double-drop step makes it easy to enter the Forest River RV Cherokee Grey Wolf Travel Trailer. At Century, your Forest River RV dealer, you can get a closer look. It's a party when you can enjoy music while you sit under the stars. The lighted outside stereo speakers play your tunes. An outside outlet and a cable hook up provide you with straightforward connectivity. The patio awning invites you outdoors in many types of weather. A drip rail and down spouts keep the rain away from the front door. A roof ladder is also available. For more fun, you can choose an outdoor bar and grill area. The knowledgeable staff at Century, your Forest River RV dealer, can show you all of the options serving Fort Collins Boulder Longmont Colorado.
Forest River RV - INTERIOR
After a long day at the lake or on the trail, it's great to have a place to relax. The bedroom sleeps two in a large comfortable bed. There are dual reading lights and dual night stands for your convenience. Wardrobe closets allow you to store your clothes for easy access. You can also get solid sliding doors for privacy. Another option for Longmont shoppers is a special fan for the bedroom. Bunkhouse models offer more sleeping berths. You have your choice of bathroom types. There is a glass shower enclosure or a tub model with a shower curtain. These have a double-frame tub base for extra security from leaks. Over the acrylic bath sink, there's a large mirrored medicine cabinet. Linoleum makes the bath area easier to keep clean. A favorite customization is a bathroom skylight over the tub. This brings in natural light, heightening your outdoor experience. Century RV, serving Fort Collins Boulder Longmont Colorado, invites you to see all of the possible customizations and layouts for the Forest River RV Cherokee Grey Wolf Travel Trailer.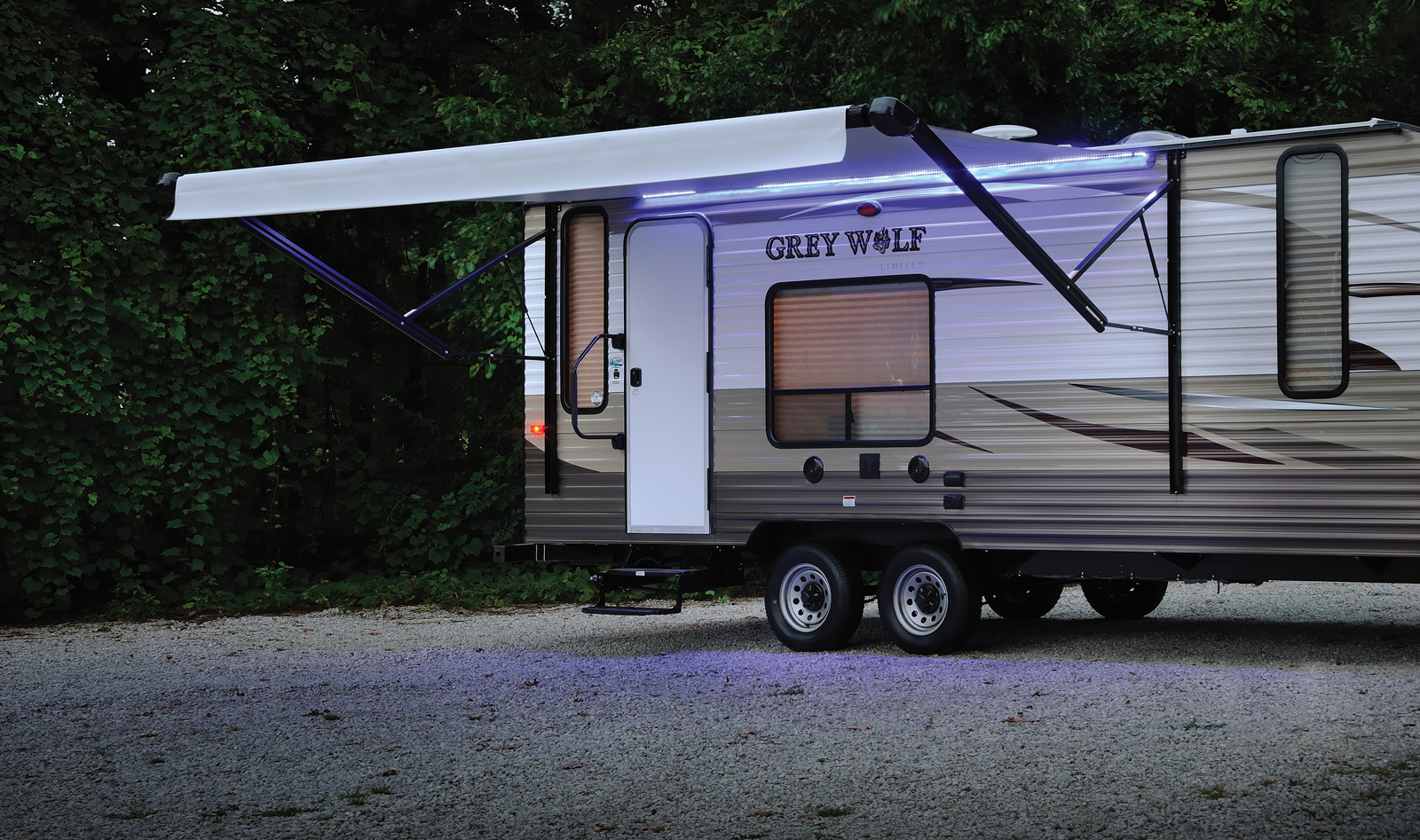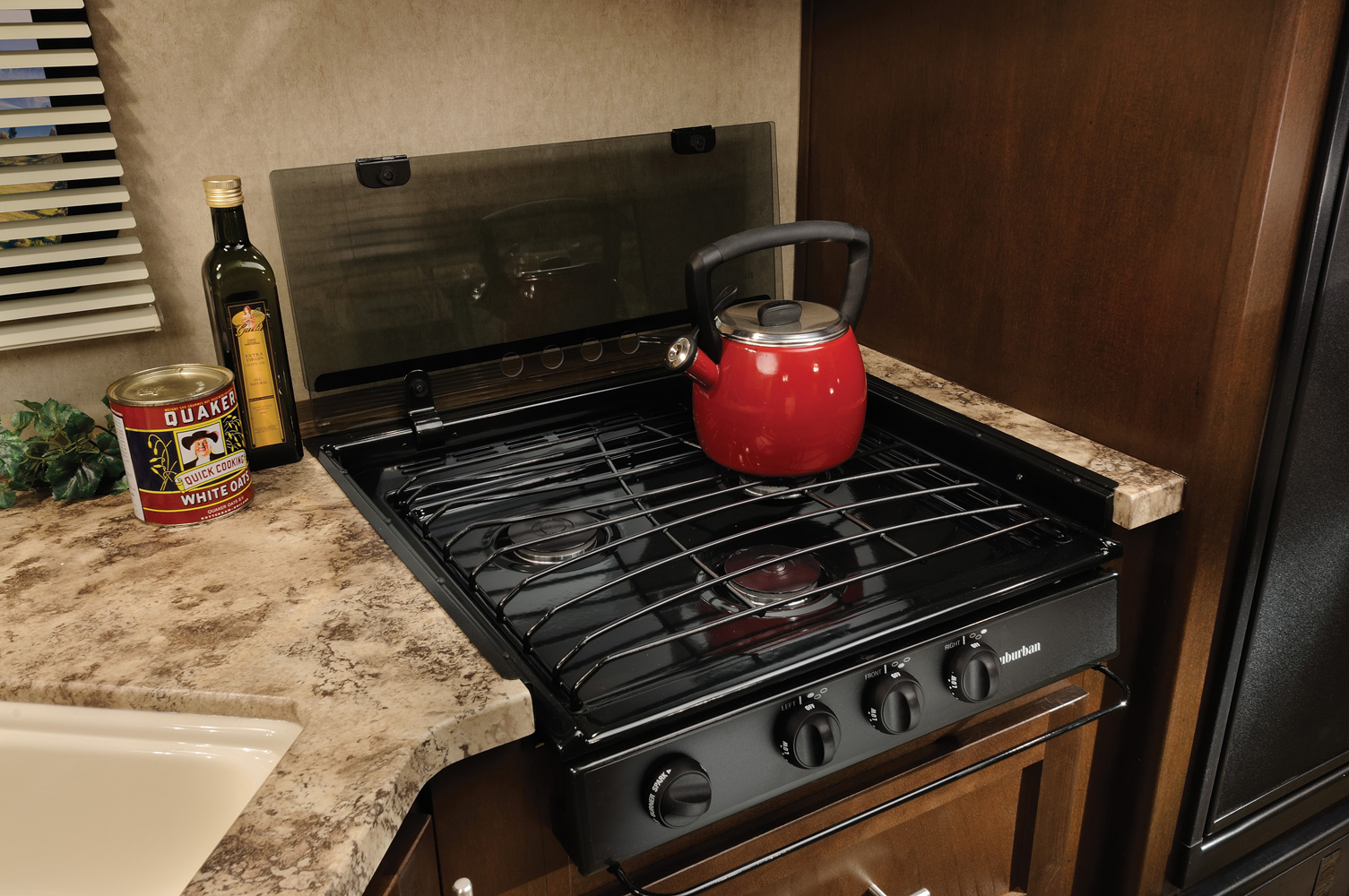 Forest River RV - KITCHEN/LIVING AREA
Handsome cabinets have large doors for better access. Under the cooktop, you'll find more storage. The double-door refrigerator keeps your food fresh. The cooktop has a special backsplash. This high output stove is complemented by a Carousel microwave with its own high output capability. At your Longmont and Forest River RV dealer, you can try out the appliances and the sink. We want you to be satisfied with your travel trailer purchase. A monitor panel comes with a digital TV antenna and power booster. A flat screen TV is also available. There are cabinets throughout the cabin including some large overhead units. Every inch of space has been carefully designed to do more for you. The dinette area is different depending on your floor plan. There is a one-piece slide-out or a U-shaped dinette.
Forest River RV - CLOSING
A 13.5 AC unit keeps things cool. A six-gallon turbo water heater ensures you have the hotwater you need for showers and cooking. The exterior has 20-lb. LP bottles with covers. Mini blinds give you privacy throughout the trailer. Some have hard window valances. Night shades are on the options list. All of the glass is safety glass for greater peace of mind while traveling.
Get all of the details on the Grey Wolf at Century, your Longmont RV dealer. With this home away from home, you'll never need a hotel room again.
By accepting you will be accessing a service provided by a third-party external to https://www.centuryrv.com/