Why Buy Keystone RV ALPINE - Longmont Colorado
Why Buy Keystone RV ALPINE - Longmont Colorado
View Inventory

Why Buy Keystone RV ALPINE?
An Alpine RV is a good way to live on the road. You feel like your home is with you because it is full of your favorite things. Colors and material qualities are soothing. Each feature is part of a handsome whole. This welcoming atmosphere goes with you whether you stick close to home at your favorite camping spots or you explore the U.S. Century RV is your Alpine dealer serving Denver Lakewood Longmont Colorado.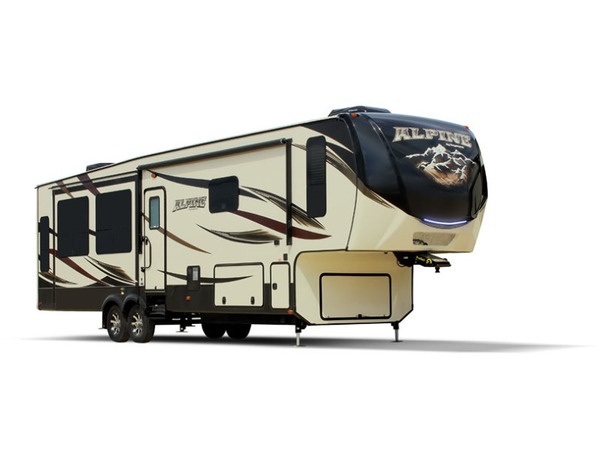 EXTERIOR
High-gloss exterior walls are decorated with attractive graphics. Constructed with 12" beams with Z frame technology, you know this recreation vehicle is built to last. Every element has been carefully crafted for durability. The underbelly is constructed with a solid piece of polypropylene. The RV gutters have rain spouts. The attic has special No Sweat ventilation. Slide outs have all-terrain landing pads. There's a rear ladder for easy access to the walkable roof. The entry door is a generous 30 inches wide and six feet, four inches tall. To extend your living space outdoors, a one-touch electric awning comes with adjustable arms. Electric and gas hookups are built in. The 50 AMP service includes a detachable power cord. Therma Max heat pads insulate the holding tanks. A sizable water heater is ready for washing and cooking needs. Alpine construction consolidates all of your water-related features into a convenient Water Works area.
There's no searching for the right fixture because everything is easily accessible and clearly designated. If you choose the North Face package, the manufacturer triples insulation, heats the Water Works area, adds a heated basement, and provides more heat ducting to padded tanks. For hot weather, the Whisper Air package adds an extra 15,000 BTU air conditioner, cold air return vents, and a Digital Smart Thermometer. This fully programmable system lets you control the temperature for two zones inside the Keystone RV Alpine. To make sure everything works as it should, the employees of the company spend weeks at Kamp Keystone. They want to be sure that the slide-outs, tech features, and craftsmanship are all up to the highest standards. This helps them improve the product every year.
If you want to see for yourself, head to your Longmont RV dealer. Century RV, serving Denver Lakewood Longmont Colorado shoppers, can give you more information on the manufacturer's quality assurance methods.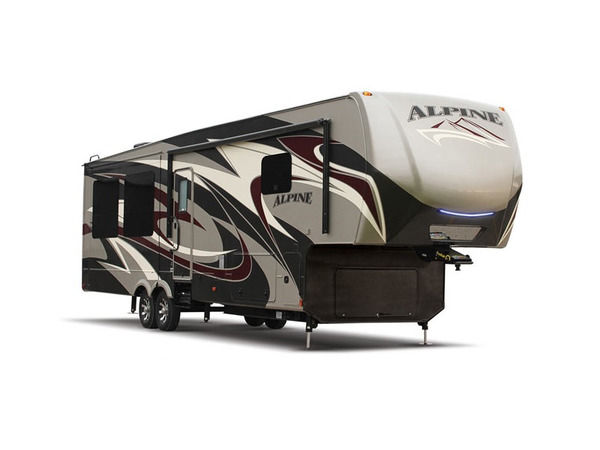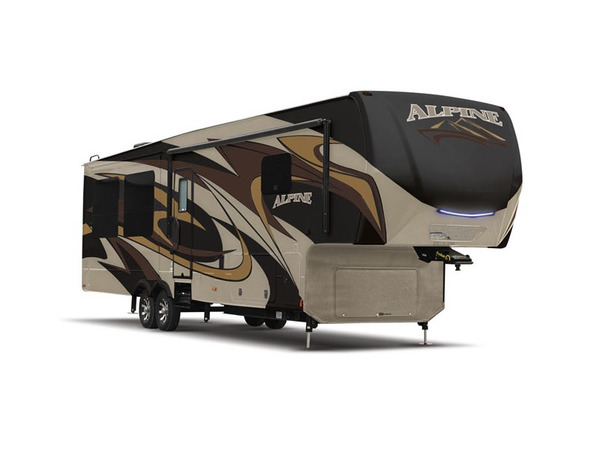 INTERIOR
Each aspect has been designed for your comfort. The tinted windows are made with 80-percent safety glass. Pull-down blinds and faux window shades provide privacy. A full bath with step-in shower accommodates your needs. Favorite details include a shower skylight, a handheld massaging showerhead, and a porcelain toilet. Many also have a half-bath to make life easier with more than a few people living in the recreational vehicle. The in-Command Control Center helps you find the functions you need. The main bedroom suite is all on one level. A good night's sleep starts with the Cloud Nine pillow top mattress. The kitchen has every appliance you'd expect plus a ceiling fan and an electric roof vent for easy ventilation. You can get a solid-surface sink cover and solid-surface countertops. The stainless steel sink can have a single- or dual-bowl construction.
Kitchen storage is maximized with deep drawers and ample pantry space. Many models have been prepped for your stackable washer/dryer combo. The living room area has sofas, recliners, bench-style seating, and single dining chairs, depending on your choice of layouts. Wood-faced cabinets and handsome wood designs make the interior look like a home. There are many floor plans to suit different types of travelers. You can get a bunkhouse with lots of sleeping space or limit sleeping space to the bedroom. The slide outs have extra high roofs, ensuring that these areas look and feel completely integrated with the rest of the living space. When you are looking at why buy Keystone RV ALPINE, be sure to ask your Longmont RV dealer about your many options. The Century staff can show you much more than can be detailed here.
MECHANICAL/PERFORMANCE
Ready for the road, the recreation vehicle has heavy duty 7,000 axles with easy lube access. The G rated tires and suspension are in it for the long haul. The RV engineers have focused on improving impact absorption. In the process, they've also improved axle equalization. Elements include eight greasable 'wet' bolts, long-lasting steel shackle plates, and extra durable bronze bushings. If you are asking yourself why buy this brand, Hitch Assist and Max Turn are two big reasons that smart travelers choose Keystone as their next recreation vehicle. Hooking up is easier with the vehicle's exclusive Hitch Assist system. A back up mirror with lights helps the driver deal with difficult hitch maneuvers. MAX TURN is a Keystone exclusive. The high-gloss fiberglass front cap helps protect the truck bed when the driver makes a sharp turn.
Century RV, your Longmont RV Dealer, has a selection for your inspection. Serving Denver Lakewood Longmont Colorado shoppers, our dealership can help you prepare for your next adventure.
By accepting you will be accessing a service provided by a third-party external to https://www.centuryrv.com/